Start Time: 9:30 am, Friday, June 6th
Finish Time: 9:30 am, Sunday, June 9th
Hour Breakdown: 
Friday: 9:30-10:30 am: (1 hour); 1:15-2:15 pm: (1 hour)
Saturday: 12:45-1:15 am: (1/2 hour); 12:15-1:15 pm: (1 hour); 1:30-4:30 pm: (3 hours); 5:50-10:10 pm (4 hours, 20 minutes)
Sunday: 7:30-9:30 am: (2 hours)
 Total Hours: 12 hours, 50 minutes
Total Books Read: 2.5
Total Pages Read: ~700
REVIEWS!

Book: Girl Parts by John M. Cusick
Total Current Reviews on Goodreads: 1,234
Date Published: August 10, 2010
Publisher: Candlewick
Format: Audiobook
This is probably going to be the strangest sentence I ever typed, but this book was a cross between Feed by M.T. Anderson and the movies Failure to Launch and Pretty Woman. Set in a not too faraway future, where teenagers use the internet so much that they're starting to suffer from "dissociative disorder," robot female companions have been invented to help the boys develop "real" relationships and reconnect with reality and, hopefully, their moral consciousnesses. It was an interesting idea–I was still thinking about the plot line days afterwards–but not really my cup of tea, mostly I believe because of how similar the futuristic setting was to Feed, another good book (for others) but set in a world I didn't really enjoy visiting.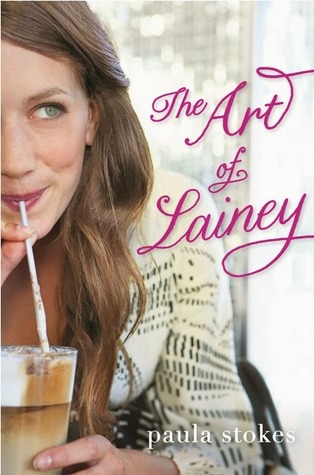 Book: The Art of Lainey by Paula Stokes
Total Current Reviews on Goodreads: 593
Date Published: May 20, 2014
Publisher: HarperTeen
There's that argument that there are only a few stories that can be told and we retell them over and over again. From the first page, it was clear that this book was one of the "boyfriend breaks up with me, I want him back, but by the end of the book I'm going to realize he was wrong for me and fall in love with the right boy," variety. The title is a spin off of The Art of War, the summer reading title that Lainey ends up pulling advice from to fight for her boyfriend back (cute and clever, no?) But this book was so much more than a standard YA romance. It was so detail-rich–the setting in a suburb of St. Louis, the goth/rock subculture, the really fleshed-out relationships with best friends–that it was full of plot twists, turns, and surprises that I totally wasn't expecting from what I never anticipated. Mizz Creant's House of Torture (and Pancakes) for example? With tons of torture-themed breakfast options? With probably one of the "baddest" and dearest "bad boy" character I've read in a long time, I was really impressed by how complicated the emotions and world building was. Besides the slight technicality of the main character's age (she's a rising high school senior) which actually didn't affect the plot or characterization in any meaningful way, I would actually say that this doesn't feel like YA, but New Adult. Personally, I imagined all of the summer shenanigans that went on to be more believable for characters just finishing their freshman year of college, or even older. (Perhaps this is based off personal experience, as I wouldn't have really been able to relate to many of the things that happened in the book–drinking parties, dance clubs, etc.–until I was a more mature and experienced college student.) I actually think this is a selling point for this book, though, for those readers who desperate for some YA books with older themes, as there isn't much out there on the New Adult market yet.
Book: The Chance You Won't Return by Annie Cardi
Total Current Reviews on Goodreads: 188
Date Published: April 22, 2014
Publisher: Candlewick
I actually started this challenge mostly to read this book, but, as I often do, I kept putting off the book I most wanted to read because I wanted to save the most guaranteed feeling of book-enjoyment until the end. As a result, I only got 50% through, though! Annie Cardi is a lovely writer whose blog I've followed for years, all the way back before this book was a book and the WIP title was still Queen of Glass, I believe. I've enjoyed her blog and her short fiction and as a result I was eagerly anticipating this book for years! Annie was also the one who introduced me to the 48-hour reading challenge, so I thought it would be a fitting tribute to read during the event. So far, the book is lovely. I'm in love. But I'll have to save the review for my next post.
I think I'm going to keep reading the stack of under-reviewed books I have set aside for the next few weeks. I'm itching to read them all and am a little disappointed that I didn't make it through more books this weekend or get more reading time in. I ended up having a busier weekend–and probably the most perfect summer weekend–than I expected. A beach day with my best friend, who I haven't spent time with in too long. A backyard projected screening of Up with my sister and friends. A flea market adventure, some time spent at the pool, and the release of the third season of Sherlock all combined in the same 48 hour period! It's hard to regret not reading more, with so many amazing things happening.
It was a great weekend, for both adventures and reading, and I'm so glad I participated. Until next year!