As I mentioned recently, and for a variety of reasons, I've become interested in starting a little blog series where at the end of every month I give a few little book reviews of any books I read that are under reviewed. In this series I want to focus on books that, for whatever reason, haven't gotten the media attention and book buzz other more popular books did, have less than 2,000 reviews on Goodreads as of my posting, and could use a little bit of love and attention. Also, I'm adding information for each title about how I discovered that book and/author. Mostly because I think this is interesting information, but also in case it helps any authors who have under reviewed books of their own and want to think of creative new ways of reaching new readers.
Book: Blue by Joyce Moyer Hostetter
Total Current Reviews on Goodreads: 404
Date Published: May 2006
Publisher: Calkins Creek
How I Discovered this Book: Went to the History Museum of Catawba County in North Carolina a few months ago, which had an exhibit on the polio hospital that had been run there in the 1940s. I expressed a deep interest in the topic (GOD I LOVE THE HISTORY OF PLAGUES…ESPECIALLY polio) to the museum curator and she pointed out that a children's historical fiction book set in the hospital itself, written by a local author, was for sale in the gift shop. Obviously, this book was meant for me and I bought it immediately.
Thoughts: MG historical fiction always has a sweet spot for me as a reader. The voice of the story, and the main character narrating it, was so distinct, uniquely her and also uniquely of that place, both historically and geographically. It's a perspective of WWII from the home front, the families and children left behind when their fathers went to fight overseas. I don't think there are enough books that have this perspective, particularly from a character living in the south, as a region, and, let's be honest, did you even know that there was a polio outbreak during WWII in the United States. (I only learned this in college during a really specific history course, but otherwise I think I'd still be totally clueless about this usually "hidden" history.) I love that this book was set during WWII, but wasn't about every single battle fought during WWII, which made it feel more realistically like it was from a child's perspective, for me personally. Perfect if you want a historical fiction read that will surprise and charm you.
Book: Ghost Knight by Cornelia Funke
Total Current Reviews on Goodreads: 1,387
Date Published: May 2012
Publisher: Little, Brown Books for Young Readers
How I Discovered this Book: Digging through the OverDrive audiobook archive my library provides. Looked up Cornelia Funke, a favorite author, and found this lovely gem.
Thoughts: Love. Love love love love. Set in charming Salisbury, England, this is EXACTLY how I like my ghost stories: creative and historical (there are medieval KNIGHTS, folks!) and spooky and funny, with saucy spunky characters, alive and dead alike. This reads like my very favorite MG books when I was a MGer myself. I also happen to think this is the best comp book out there I've found for my current WIP (so I'm totally referencing this book in my query letter in a few months, when I finally can compose said query letter, thank you very much!) if you're interested. PS: If you've read and loved this book in the past, let's be friends. Also, will you please be my beta reader? (I'm kidding…but not kidding.)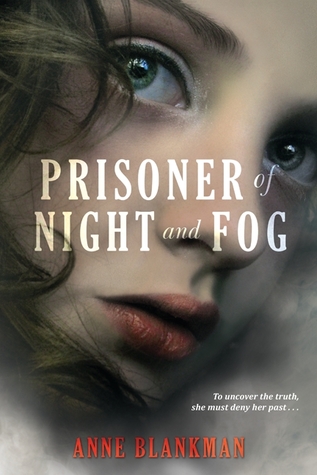 Book: Prisoner of Night and Fog by Anne Blackman
Total Current Reviews on Goodreads: 2,290 (it was at under 2,000 when I started reading, though!)
Date Published: April 2014
Publisher: Balzer + Bray
How I Discovered this Book: Mentioned in a round-up most-anticipated April releases over on the YA book blog, Perpetual Page-Turner.
Thoughts: Intensely detailed historical fiction that makes you feel like you're there, in the early-early years of Nazi German. I could actually see the brick of the cobblestone streets, the world building and setting was so detailed. The twist of this story is that the main character is trying to solve her father's murder…and her Uncle Dolf is no other than Adolf Hitler himself. An intimate, up-close, and brave portrayal of a massive historical figure who usually remains distant (in a far-off-famous-person sort of way) in young adult fiction.