For a variety of reasons, I've become interested in starting a little blog series where at the end of every month I give a few little book reviews of any books I read that are under reviewed. In this series I want to focus on books that, for whatever reason, haven't gotten the media attention and book buzz other more popular books did, have less than 2,000 3,000 reviews on Goodreads as of my posting, and could use a little bit of love and attention. Also, I'm adding information for each title about how I discovered that book and/author. Mostly because I think this is interesting information, but also in case it helps any authors who have under reviewed books of their own and want to think of creative new ways of reaching new readers.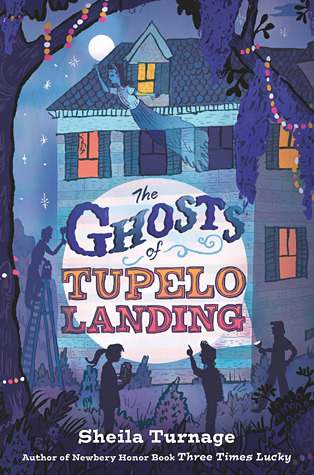 Book: The Ghosts of Tupelo Landing by Sheila Turnage
Total Current Reviews on Goodreads: 2,330
Date Published: February 2014
Publisher: Kathy Dawson Books
How I Discovered this Book: Read the first book and found out it was a series when exploring on Goodreads. (As they say, backlist sells front list!)
Thoughts: Just as adorable as the first book, full of voice and humor, the tale of a child detective agency in a rural southern small town, with the added bonus mystery of a haunted historic inn with a real true ghost. If you haven't read Three Times Lucky, get on it, then read this. If you have read Three Times Lucky, what are you waiting for??
Book: Princess of Thorns by Stacey Jay
Total Current Reviews on Goodreads: 2,883
Date Published: December 2014
Publisher: Delacorte Press
How I Discovered this Book: Young to Publishing Little Big Mouth promotion sent me an ARC.
Thoughts: A mash-up retelling of The Seven Swans (Grimm or Hans Christian Anderson, take your pick) and Sleeping Beauty–though way more original material than retelling–this was an epic fairytale adventure story. Tension, emotional rollercoaster, one of the best romantic subplots I've enjoyed in a while, fairy-trained princess warrior on a mission to save her brother from soul-sucking ogres…need I say more?
Book: Bone Gap by Laura Ruby
Total Current Reviews on Goodreads: 1,440
Date Published: March 2015
Publisher: HarperCollins
How I Discovered this Book: I feel like this book was ALL that Twitter was talking about for weeks before it published. I grabbed a copy as soon as I could get my hands on it–the hype was high.
Thoughts: Masterful. I read in an interview that this was intended to be a retelling of Persephone, but it's so subtle, so original, so NEW that I didn't catch on to the hint of a retelling without having it pointed out to me. Set in contemporary farming/small town Bone Gap, Illinois, there's something odd, magical, and sinister going on. Told from four different perspectives–two brothers and two kick-ass ladies who save themselves from dire situations over and over again–I don't know how to express how completely wonderful and perfect this story and these characters are. There's a magical horse. And so many different forms of love. Honey-dipped s'mores (this sounds like an awesome idea, I must try it). And creepy creepy corn fields that dance and whisper in the night. I honestly haven't loved a book as much as this since Maggie Stiefvater's The Scorpio Races. I know they're set in totally different places–imaginary British island vs. land-locked midwest–but they FEEL like they're in the same universe. That might not make sense, but read it and you'll understand.
Book: The Peculiar by Stefan Bachmann
Total Current Reviews on Goodreads: 2,522
Date Published: September 2012
Publisher: Greenwillow Books
How I Discovered this Book: First introduced through the Cabinet of Curiosities, which Bachmann contributed short stories to. I enjoyed his stories in particular so much that I picked up a copy of his full-length work.
Thoughts: Poetic and amazing world building. It had me totally believing that fairies really did live in Edwardian England (perhaps they did!). Evil political schemes and half-fairy children being hunted down by a mysterious force combined to make a charming and page-turning adventure.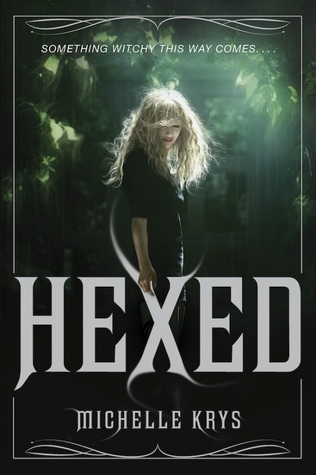 Book: Hexed by Michelle Krys
Total Current Reviews on Goodreads: 2,389
Date Published: June 2014
Publisher: Delacorte Press
How I Discovered this Book: Stumbled across this title on a blog post somewhere. Upon looking up the description on Goodreads, I was intrigued enough to get my hands on a copy.
Thoughts: A fun, snarky, spoofy story about a cheerleader who finds out she's a witch with a family history of protecting a very important spell book. She experiences more death threats than I could count (okay, I can count that high, I just choose not to, hence, why I do not follow basketball) made by nasty enemy magicians hell-bent on killing the entire witch population while also trying to deal with her social life shredding to pieces. If you want a book with magic that has you biting your nails until the end, this be it!